Or, Sand in the paint.
"Wotcha doin mister?"
The small boy at the front of this postcard has probably been hassling the photographer since he first set up his cumbersome camera equipment on a hot summer day in Trouville.
Trouville, La Plage
Presumably a cultured man, the photographer is cleverly echoing the famous paintings by M. Claude Monet, but a small quizzical face is in every frame. And completely stealing the scene.
A closer look reveals costumes worn prior to the first world war, a time of '
La Belle Époque
', those golden few years before WW1 blew the world apart.
I'm glad this lad had a summer on the beach with nothing but time and curiosity to get him into trouble. I hope he got through the trenches and the campaigns okay, and lived to bring his own children to play on the sand and not think about war.
Right place, bit of a dull match
I had high hopes for our visit, but we were short on sunshine and atmosphere. We will have to go back and have another go!
Monet's Trouville is of course delightful.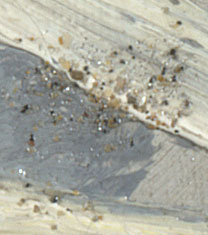 Trouville sand in Monet's paint!
The picture below, now in the
National Gallery London
, is proud to have grains of Trouville beach sand stuck forever in it's oil paint. Proof, if it were needed, that Claude painted 'en plein air' - outside.
The beach at Trouville, 1870, by Claude Monet. Tiny, covered in sand and in the London National Gallery
Jonathan Jones is very interesting about this painting in
a Guardian article, here
.